With a lovely, mellow, guitar-like tone, the zhongruan is a member of the ruan family of plucked string instruments. Zhongruan literally means "medium ruan". Other members include the gaoyinruan, xiaoruan, daruan and diyinruan.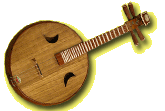 The Ruan is named after Ruan Xian, a 3rd century master of the instrument. The ruan has a history dating back over two millennia and it was also known as the qin pipa and yueqin in earlier ages (today, yueqin refers to a separate instrument). Pictorial evidence from a 3rd century tomb depicting a performance by Ruan Xian proves that the construction of the ruan has changed little since that time.

The ruan is a four stringed, circular bodied lute with 24 frets on the neck. Each string has 12 semitones. It can be played with a plectrum or with false acrylic nails. Whilst using a plectrum produces a louder tone, the fingernails allow the performance of polyphonic solo music. Whilst the use of the ruan as a solo instrument is a more recent development, the ruan is more often seen in ensembles or in accompaniments.