Chill Dynasty opens to the sounds of one of the most ancient Chinese instruments, the zheng. A member of the zither family, this beautiful instrument is also commonly known as guzheng, or "Chinese zither" in the west.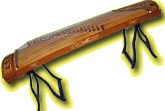 The zheng has a history dating back more than two thousand years and is mentioned in documents from the Qin dynasty (before 206 BC). Whereas the ancient instrument only had 12 strings made of silk, the modern version commonly has 21 strings made of steel and wound with nylon. The strings are attached to the wooden half-tube body and are stretched over movable bridges. The instrument is usually tuned to a pentatonic scale over four octaves, but tuning can be adjusted by moving the bridges.

On the right side of the instrument, the strings of the zheng are plucked with four picks attached to the right hand fingers of the player with special tape. In some intricate pieces a player may require additional picks on the left hand. On the left portion of the zheng, the strings are pressed using the left hand to adjust tuning. In Chinese traditional music, the zheng is one of the main chamber and solo instruments, but it has also found its way into modern popular music in Asia and the west.