On MoShang's second full-length album, Oriental melodies performed on traditional Chinese instruments float effortlessly over deeply laid-back grooves and offer glimpses of the past, the present and the future – get comfortable…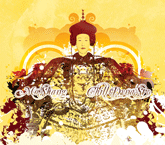 The essence of chillout music is tasteful composition, multi- dimensional production, and the limitless sonic palette available to modern producers. Attempted by many, marrying state-of-the-art electronic waveforms with ancient Asian timbres is a delicate process successful only by inspiration, not by experimen- tation. MoShang (Jean Marais) achieves this, presenting some of the finest recordings to date uniting these disparate eras of musical sound as if concurrent.

MoShang loads his latest sonic jewel case, Chill Dynasty, with only gems, finding that deep soft spot only the best chillout reaches. From the jazzy uptown images of "Or Else", to the scenery of a bright mountain sunrise in "Tall Tale", to "Soli" and

its sophistication of 70's fusion with stylistic update, MoShang colors vision with sound, making each track a fine aural canvas. "Easy" exudes the time-enduring qualities of an adult- contemporary hit and is already well-received with radio audiences prior to its release, featuring the intoxica- tingly lush vocals of Sonja V. melting a soul like butter from her very first vowel.

Chill Dynasty proves MoShang's consistent quality and mastery as an artist, composer, and producer. Meet the Eastern world's Sven Van Hees – MoShang proves Chill Dynasty a classic beyond its time.
Tim Quigley, OverXposure.FM